The Burren Food Trail has won the coveted EDEN award for local gastronomy and Tourism, we are chuffed.
Elderflower Fizz and Limoncello from Oz…ooohhhh
From our wonderful Burren Food Trail winning the coveted EDEN award recently, which I will give the full run down of soon, to Wild Kitchen and the unique Barrtra Seafood Restaurant appearing in the recent Australian beautiful mag called MiNDFOOD, pics to follow.Pop up Wild Kitchen  for visiting Canadian celebrity chef, and to one of my fab events which is coming up soon from the 16th of June to the 21st …..National Bikeweek. Like last year there are loads of events going on one of which is a foraging cycle, and cycle training, and this year it's to HQ of Wild Kitchen for tour of our garden and tunnel and includes an organic lunch under the awning, looking forward to it very much. See all details on www.bikeweek.ie.
Lots of fantastic food stuff going on in Co.Clare this Summer. As a member of the Burren Food Trail we have teamed up with Slow Food Clare to create a week long Food Festival, Talks, Demo's, Food Market, Walks, Restaurants in the area, meet the producers, Banquet….I am back to the Pavilion with WILD KITCHEN food, we ran out at the Clare Garden Festival. Nettle and Dilisk Humus, Rocket Pesto, Dandelion marmalade, Sugar Kelp Crisps and lots more and of course I am guiding a wild food walk around the Pavilion, need chocolate now, hope to see some old friends and new faces in a few weeks, and remember a wet and windy May fills the barn with straw and hay……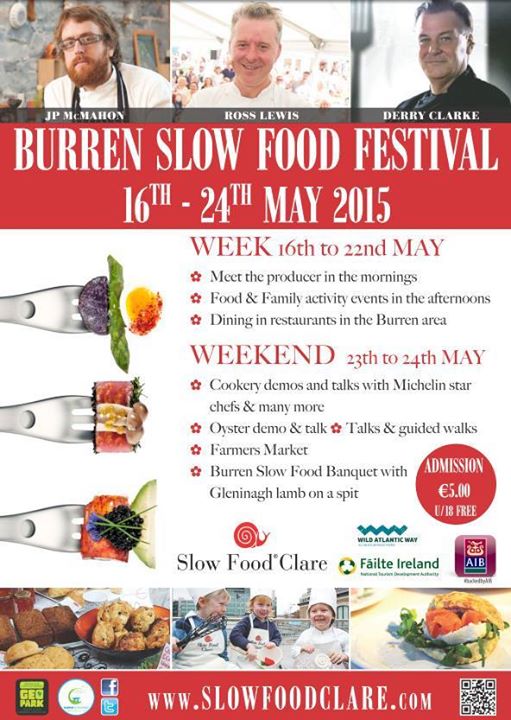 —————————————————————————————————————————————————————————————————————————————————————
OK, Spring has sprung, time to re-wild, time to inhale that salty air and let go.
Time to pick new greens and delicious seaweed, take the time to join me.
Seaweed walk/talk/taste   Sat.28th March. 4pm.      Barrtrá Beach.
Seaweed walk/talk/taste  Mon.6th. April.  12 noon. Barrtrá Beach
Book with me at 0876877890  €20
Book Review "The Lettercollum Cookbook"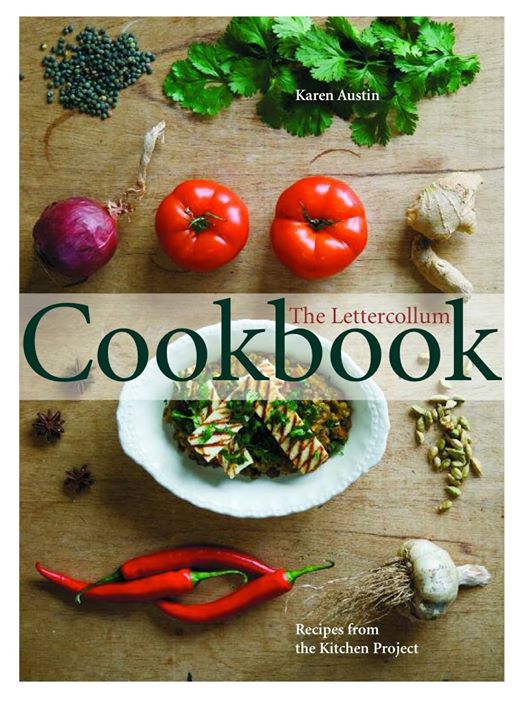 Boy do I love cookbooks, when they are delivered free to my Wild Kitchen in the west, I love them all the more. My Tipperary Grandfather from the country had a ritual of having to be the first to read the daily newspaper. Such was this simple pleasure of  opening the crispy new pages, in front of the stove, tea in hand, after milking the cows. This I inherited from him and  I have to wait for the right time, when chores are done and feet are up to succumb to the joy of opening a new cookbook and being taken away.
The Lettercollum Cookbook was no different.
The feel and smell of new print and page, the excitement of discovering new recipes, new ingredients, and new ways to cook them was as heady a moment as any  previous encounters I've had with my favourite old cook books, steadily taking over the house.
Apparently one of the new  food trends for 2015 on restaurant menus is using vegetables more as main courses, I'm all for it, The Lettercollum Cookbook team look like they are too. As an organic grower for years, I need no convincing of the value of local, seasonal, vegetables, and this book advocates this, telling their story and sharing their recipes from the Kitchen Project, in Clonakilty, Co.Cork. www.lettercollum.ie
I know we all have our tried and tested dishes we  tend to stick to, especially when time is short and there are mouths to feed, but how invigorating it is to get a new jolt of inspiration to liven up the kitchen, our palettes and our cupboards. Love the Asian Slaw above, mix it up or have it deconstructed, healthy, fast, fresh. I have been experimenting with different types of pesto of late, including chickweed and nettles, and the recipe for rocket and pumpkin seed is an welcome addition, love pesto.
And for the season that's in it, sweet things.  How beautiful are these Christmas Clementines, a welcome change from traditional heavy  desserts that weight us down, fruit is so light and refreshing, perfect.
There are recipes for all sorts of  Bakes and Tarts, Moussaka and Salads,  and things to create with fish, Grilled Prawns with Whiskey Mayonnaise being one of them, which I can't wait to try.
This book will stay at the front of my book shelf for some time to come.
=====================================================================================================================================——————————————————————————————————————————————————————————————————————————–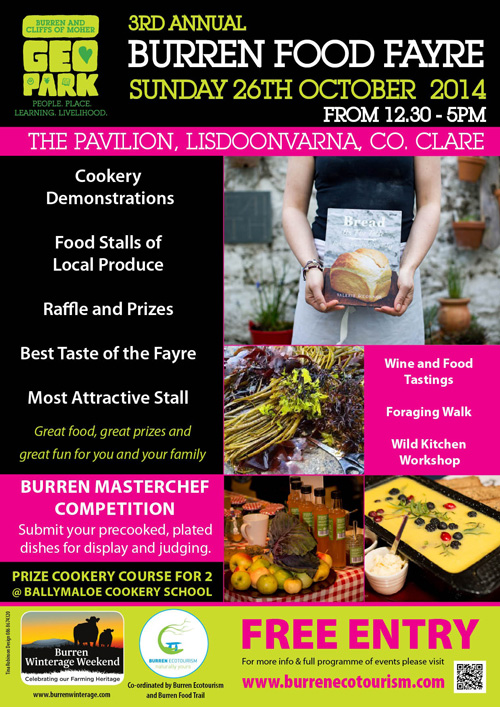 Cookery demonstrations and tastings,  WildKitchen Workshop
Foraging Walk, Master Chef Competition for adults
and school goers, and that's just for starters, excuse the pun….Bank
Holiday Weekend, Lisdoonvarna.

——————————————————————————————————————————————————————————————————————————————————————
As part of the Burren Eco-Tourism Activity Fridays.

I will guide a Wild Food Walk/Talk/Taste.
Friday the 26th. Sept. 11 am
Low tide, new moon, good weather promised, and a wild food picnic, what more could you ask for.
Booking essential. 0876877890
Next Wild Food Walk/Talk/Taste Tuesday 29th.July at 1pm. Meet at Barrrtrá Seafood Restaurant.

Learn to make these divine Sugar Kelp Crisps on our next Seaweed Walk/Talk/Taste.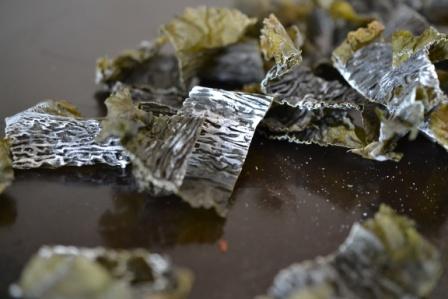 Friday 30th. may at 1pm and Sat.14th June at 12.30. low tide/ full moon and 8 delicious seaweeds to find.
Welcome to Wild kitchen, a unique food experience, based in Lahinch. Co.Clare. We offer some-thing different, guided Wild Food Walks on land and seashore. Join us and learn how to identify the many types of delicious, edible seaweeds, like the Truffle of the Sea, Pepper Dulse, and Dilisk. Find out what's in season and discover the fifth taste, Umani. Sustainably harvest this free SUPER
Food and learn how to dry and use it in many exciting ways.
Wild Food Walks can be suited to any-one wanting to learn about this wonderful free bounty on our doorsteps. The walks cover a great deal of the wild edibles available in our area and inc.woodland, meadow, hedgerow and of course sea-shore. Why not buy a gift certificate for one of our walks for some-one you love.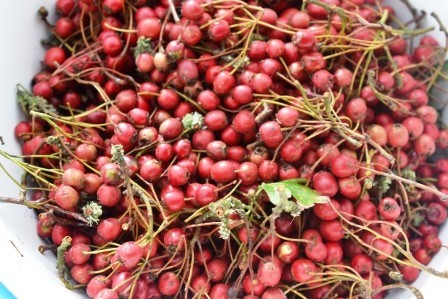 Wildkitchen is a member of  the Burren Ecotourism Network.
Check Burrentrips.boghill.com for the Burren Walking series which include a walk along the new Cliffs Of Moher walking route to Clahane, to harvest seaweed and have a swim.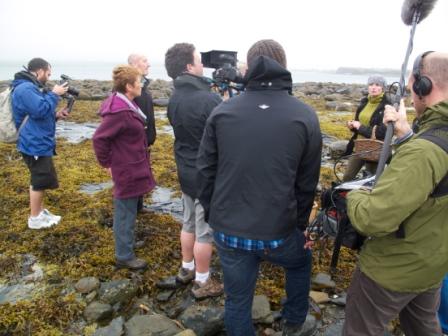 Wild  Food is  seasonal, local, nutritious, and FREE. Beneficial to human health and can be used as food medicine. We have about 8000 edible plants available to us globally and most of us eat only a tiny fraction of these. Our bodies have evolved over tens of thousands of years to deal with a varied diet of hundreds of plants and modern living now can leave us with less than 20 plant sources of food and much of this is processed.
So we often have a nutritional deficit, a taste deficit and a nature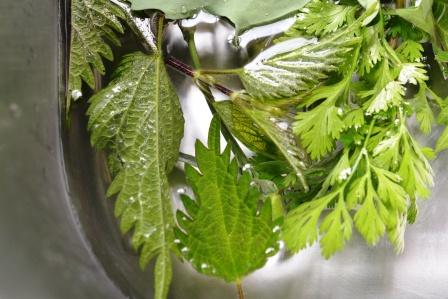 deficit, hence wild food.

"What a fantastic day..i really enjoyed it , learned so much from Oonagh great host so informative and passionate about food"…Phyliss, Ennistymon.

"Great day yesterday harvesting Seaweed with Oonagh O Dwyer. Lots of goodies including kelp, dilisk, carrageen moss, and pepper dulse, which we ate straight off the rocks!" Lisa, Lahinch.