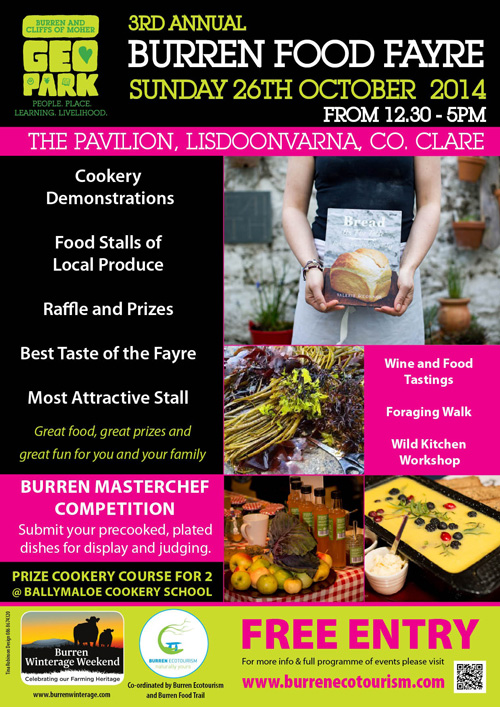 Cookery demonstrations and tastings,  WildKitchen Workshop
Foraging Walk, Master Chef Competition for adults
and school goers, and that's just for starters, excuse the pun….Bank
Holiday Weekend, Lisdoonvarna.

——————————————————————————————————————————————————————————————————————————————————————
As part of the Burren Eco-Tourism Activity Fridays.

I will guide a Wild Food Walk/Talk/Taste.
Friday the 26th. Sept. 11 am
Low tide, new moon, good weather promised, and a wild food picnic, what more could you ask for.
Booking essential. 0876877890
Next Wild Food Walk/Talk/Taste Tuesday 29th.July at 1pm. Meet at Barrrtrá Seafood Restaurant.

Learn to make these divine Sugar Kelp Crisps on our next Seaweed Walk/Talk/Taste.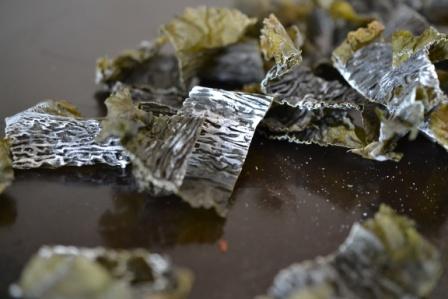 Friday 30th. may at 1pm and Sat.14th June at 12.30. low tide/ full moon and 8 delicious seaweeds to find.
Welcome to Wild kitchen, a unique food experience, based in Lahinch. Co.Clare. We offer some-thing different, guided Wild Food Walks on land and seashore. Join us and learn how to identify the many types of delicious, edible seaweeds, like the Truffle of the Sea, Pepper Dulse, and Dilisk. Find out what's in season and discover the fifth taste, Umani. Sustainably harvest this free SUPER
Food and learn how to dry and use it in many exciting ways.
Wild Food Walks can be suited to any-one wanting to learn about this wonderful free bounty on our doorsteps. The walks cover a great deal of the wild edibles available in our area and inc.woodland, meadow, hedgerow and of course sea-shore. Why not buy a gift certificate for one of our walks for some-one you love.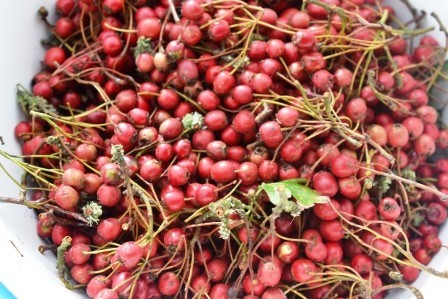 Wildkitchen is a member of  the Burren Ecotourism Network.
Check Burrentrips.boghill.com for the Burren Walking series which include a walk along the new Cliffs Of Moher walking route to Clahane, to harvest seaweed and have a swim.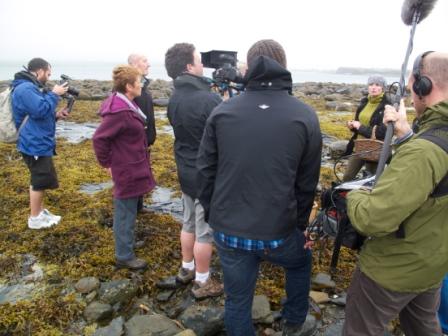 Wild  Food is  seasonal, local, nutritious, and FREE. Beneficial to human health and can be used as food medicine. We have about 8000 edible plants available to us globally and most of us eat only a tiny fraction of these. Our bodies have evolved over tens of thousands of years to deal with a varied diet of hundreds of plants and modern living now can leave us with less than 20 plant sources of food and much of this is processed.
So we often have a nutritional deficit, a taste deficit and a nature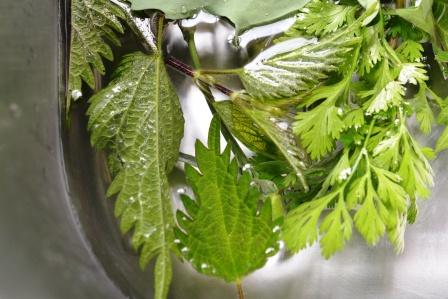 deficit, hence wild food.

"What a fantastic day..i really enjoyed it , learned so much from Oonagh great host so informative and passionate about food"…Phyliss, Ennistymon.

"Great day yesterday harvesting Seaweed with Oonagh O Dwyer. Lots of goodies including kelp, dilisk, carrageen moss, and pepper dulse, which we ate straight off the rocks!" Lisa, Lahinch.