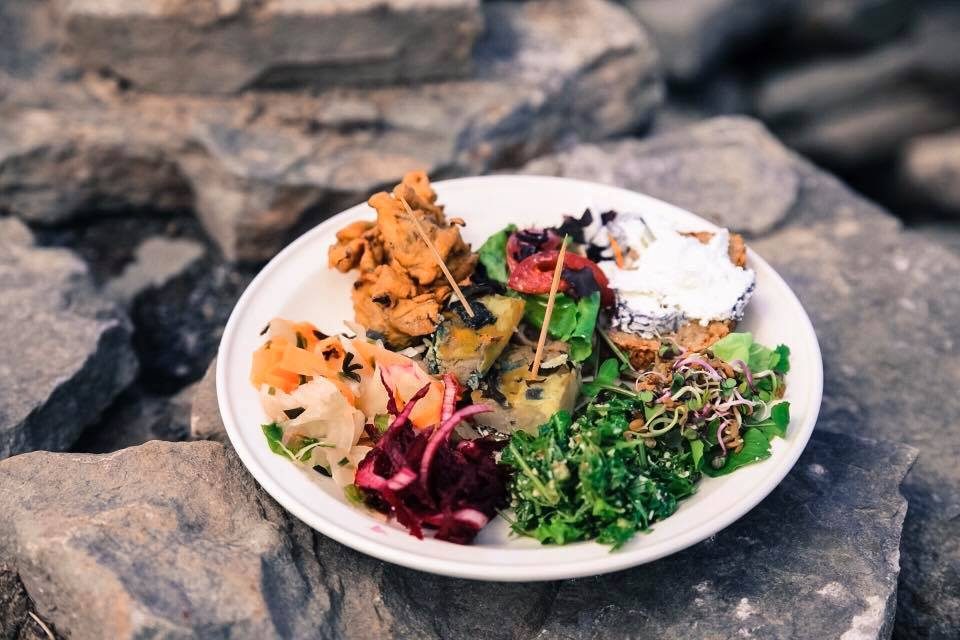 WILD FOOD ON THE ROCKS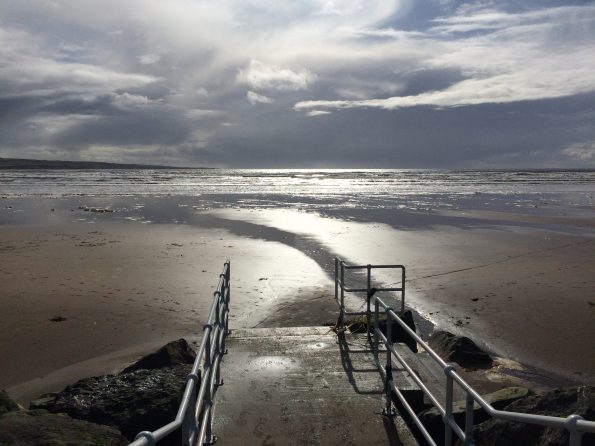 Lonely Planet includes iconic Irish route in world's 50 best drives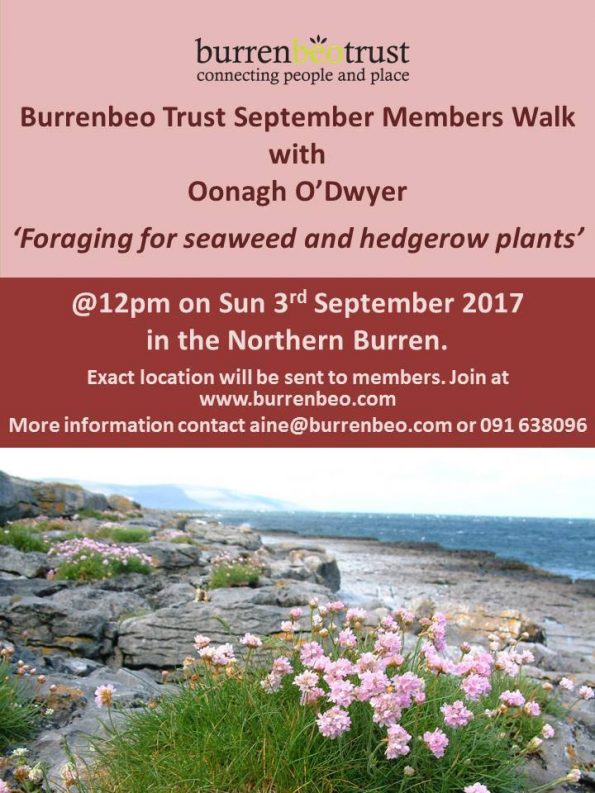 Next Seaweed Walk/Talk/Taste Sunday 27th August 2017. 2.30pm
Learn all about this wonderful, nutrient dense food. Booking essential.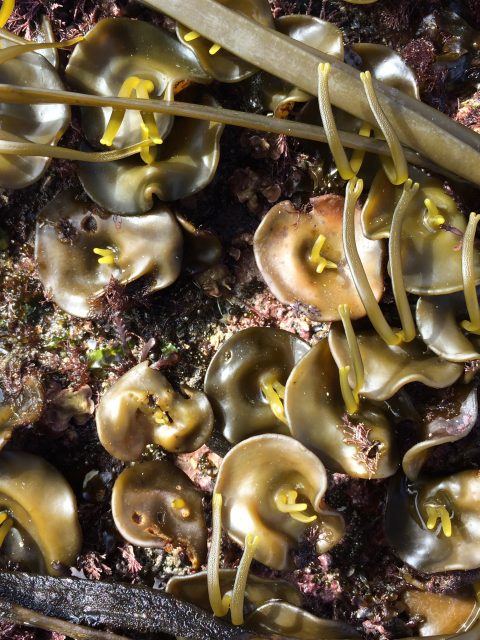 Bike Week 2017, our event Thursday 15th June.
So looking forward to our event for this years Bike Week 2017.
We have made a wood burning oven from an old metal tank, (thanks Fiona) and the genius know how of a good friend Eamonn.
We will be using our Biomass Willow planting for cooking your lunch after the forage cycle, here at Wild Kitchen. Should be great fun.
www.bikeweek.ie/events/clare/wild-food-cycle-foraging-cycle-and-bbq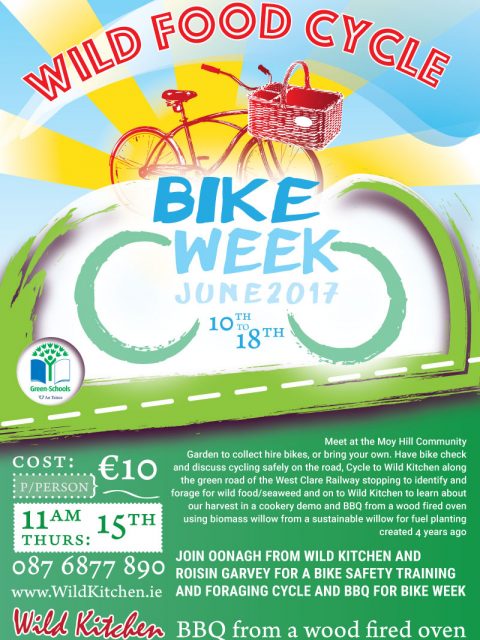 Excited and delighted to be working with the IRISH SEED SAVERS ASSOCIATION, a wonderful gang of people
who grow, conserve, & distribute Irish organic vegetable seeds, grains and fruit trees and hold all sorts of workshops
and events throughout the year, you can get details here irishseedsavers.ie/Seaweed_Foraging_and_Cookery_
SHORTLISTED…..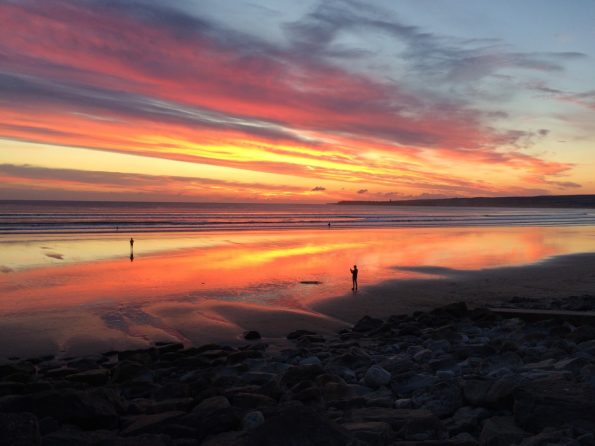 Burren Ecotourism Network and Partners have three nominations shortlisted
for the Irish Tourism Industry Awards 2017.
Best Environmental Tourism Innovation
Burren & Cliffs of Moher Global Geopark and Doolin Cave in the Best Environmental Tourism Award Category.
This award is presented to the business or organisation that has demonstrated a commitment
to the development, delivery, promotion and successful sales of a new and innovative tourism
product or service that emphasises harmonious integration with the environment and maximises
conservation of environmental resources.

Burren Food Trail in the Best Food or Beverage Experience Tourism Award

Best Food & Beverage Experience

This award is presented to the individual, company or organisation that has successfully
developed and promoted an authentic, innovative and enriched tourism-related food or
beverage offering for leisure and/or business visitors – including, but not limited to,
carriers, dining venues, tourism attractions, and festivals/events – and which
showcases and enhances Ireland's Food & Beverage Story that sets Ireland's
experiences apart from other destinations and places us on the international food and drink stage.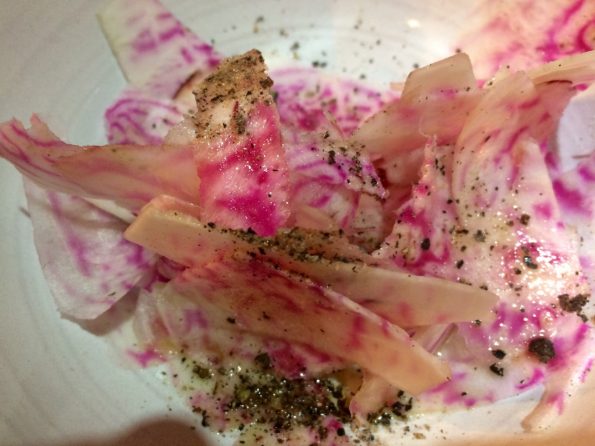 Having the most beautiful Autumn in Ireland…..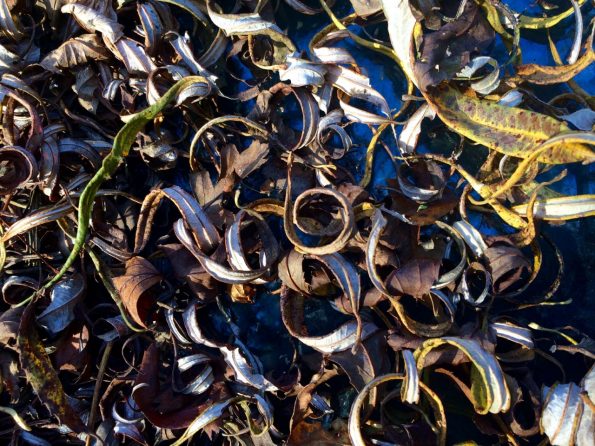 Our wonderful Burren Food Fayre is in it's 5th year in Lisdoonvarna, now running over two days, great weekend promised.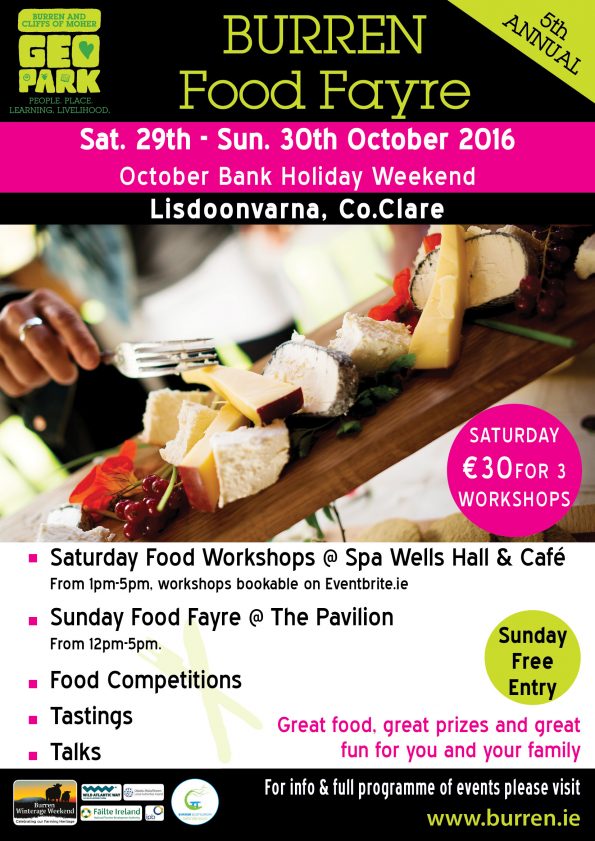 Lahinch, where we call home…
Bike week is here, fun family events for all, Moy Community Garden bike parking workshop, The fantabulous Bike Buffet, and our event, a Foraging cycle inc. bike training and then a forage along the hedgerows, stopping at Cregg Beach to talk about seaweed, then on to Wild Kitchen for a wild food lunch, inc. Elderflower Fizz, Seaweed Dishes and lots more. You need to book at 0876877890. Fun day out in the fresh air along the Wild Atlantic Way.
Green is the prime colour of the world, and that from which it's loveliness arises, "Pedro Calderon de la Barca"
Yes, Wild Garlic has made an appearance in my garden, bring it on.

Forgot the freedom writing gives, the unusual warm weather kept me from here,but gave me the material for now, the dark wet days of Winter in the west of Ireland. Inspired by so much and so many, this photograph a little taster of the variety and spice of life I encountered recently that I eagerly long to share.

My friend Ceirbhuil made this amazing concoction in the beautiful Moyhill Community Garden recently where we shared an Autumn evening, and gathered beautiful wild food to munch.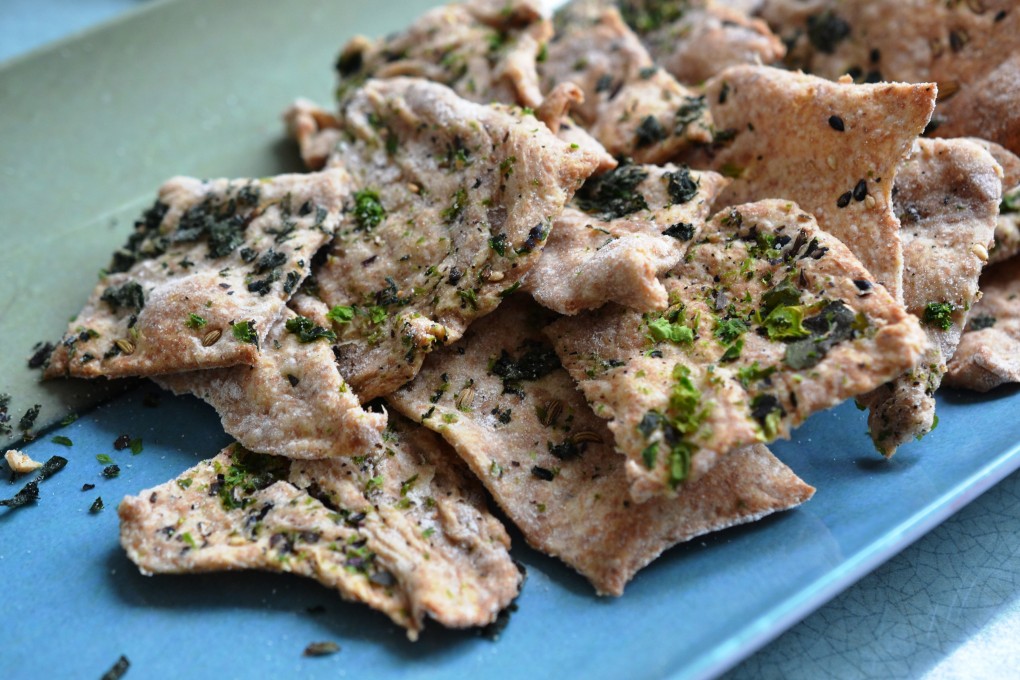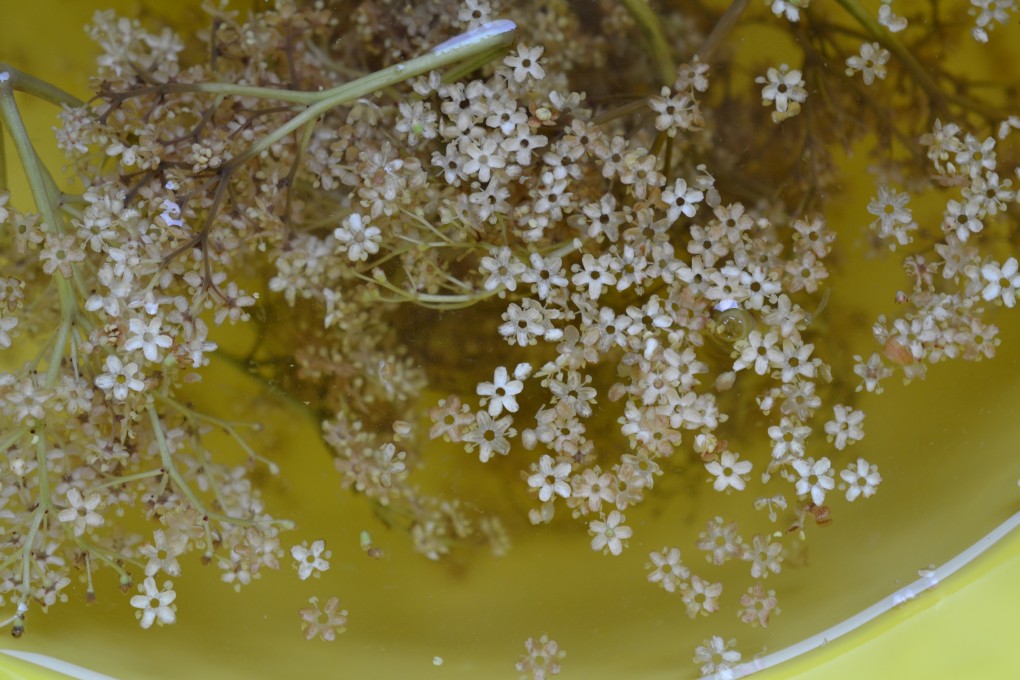 The Burren Food Trail of which I am a member has been awarded the European Destination of Excellence for Tourism & Gastronomy.
This region is now recognised internationally as the top emerging food destination.
This prestigious EU-wide EDEN competition, which is themed differently every two years, is designed to encourage and promote a more sustainable form of tourism development and The Burren Food Trail was one of four destinations shortlisted under this year's Tourism and Local Gastronomy theme. The three runner-up destinations were Cong Food Village, Mayo; the 'Wild Atlantic Way So Sligo Food Trail'; and the West Waterford region.
"Only in its third year the Burren Food Trail is still relatively new but they impressed the judges with the importance they placed on making The Burren region synonymous with great food and great food experiences for visitors and the local community.
"The standard of finalists this year was exceptionally high. During the onsite assessments, The Burren Food Trail, as well as the other shortlisted destinations, clearly demonstrated that their local gastronomy has taken a central role in their tourism offering while also sustaining their local environment.
"I am sure that this new accolade will go a long way to attracting even more visitors to the Trail, the region, and indeed to The Wild Atlantic Way".
Elderflower Fizz and Limoncello from Oz…ooohhhh
From our wonderful Burren Food Trail winning the coveted EDEN award recently,to Wild Kitchen and the unique Barrtra Seafood Restaurant appearing in the recent Australian beautiful mag called MiNDFOOD, pics to follow, and so much in between with a Pop up Wild Kitchen for visiting Canadian celebrity chef, and to one of my fab events which is coming up soon from the 16th of June to the 21st …..National Bikeweek

Like last year there were loads of events going on, one of which was a foraging cycle, and cycle training, and this year it was to HQ of Wild Kitchen for tour of our garden and tunnel and included an organic lunch under the awning, it was a great success, thanks to all who made it happen. See all details on www.bikeweek.ie.
Book Review "The Lettercollum Cookbook"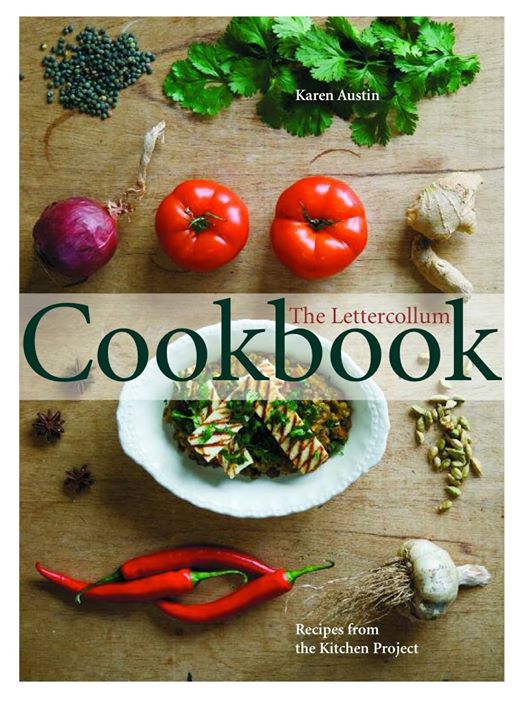 Boy do I love cookbooks, when they are delivered free to my Wild Kitchen in the west, I love them all the more. My Tipperary Grandfather from the country had a ritual of having to be the first to read the daily newspaper. Such was this simple pleasure of opening the crispy new pages, in front of the stove, tea in hand, after milking the cows. This I inherited from him and I have to wait for the right time, when chores are done and feet are up to succumb to the joy of opening a new cookbook and being taken away.
The Lettercollum Cookbook was no different.
The feel and smell of new print and page, the excitement of discovering new recipes, new ingredients, and new ways to cook them was as heady a moment as any previous encounters I've had with my favourite old cook books, steadily taking over the house.
Apparently one of the new food trends for 2015 on restaurant menus is using vegetables more as main courses, I'm all for it, The Lettercollum Cookbook team look like they are too. As an organic grower for years, I need no convincing of the value of local, seasonal, vegetables, and this book advocates this, telling their story and sharing their recipes from the Kitchen Project, in Clonakilty, Co.Cork. www.lettercollum.ie
I know we all have our tried and tested dishes we tend to stick to, especially when time is short and there are mouths to feed, but how invigorating it is to get a new jolt of inspiration to liven up the kitchen, our palettes and our cupboards. Love the Asian Slaw above, mix it up or have it deconstructed, healthy, fast, fresh. I have been experimenting with different types of pesto of late, including chickweed and nettles, and the recipe for rocket and pumpkin seed is an welcome addition, love pesto.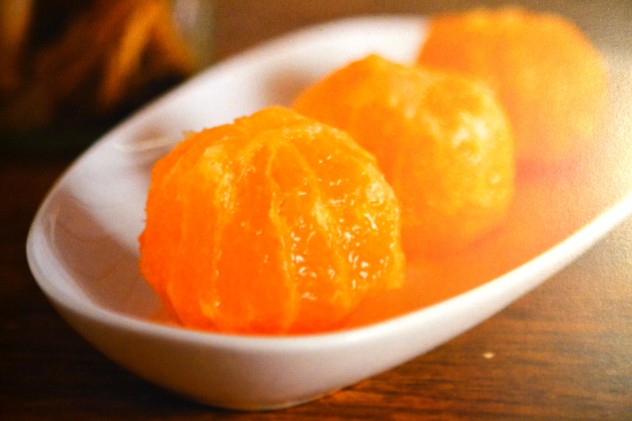 And for the season that's in it, sweet things. How beautiful are these Christmas Clementines, a welcome change from traditional heavy desserts that weight us down, fruit is so light and refreshing, perfect.
There are recipes for all sorts of Bakes and Tarts, Moussaka and Salads, and things to create with fish, Grilled Prawns with Whiskey Mayonnaise being one of them, which I can't wait to try.
This book will stay at the front of my book shelf for some time to come.
Save
Save
Save
Save
Save
Save
Save
Save
Save
Save